The 8th episode of 'Chicken Soup (Part 2) for the Doctor's Soul
18 . 01 . 2023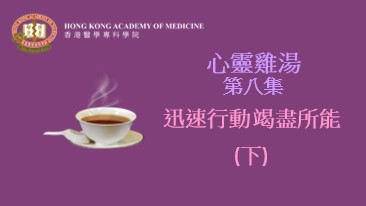 Part two of the eighth episode of 'Chicken Soup for the Doctor's Soul' is now available.

The monthly programme aims to feature a collection of Hong Kong doctors' interesting life experiences, professional anecdotes and inspirational personal stories.
Take a few minutes to enjoy, and hopefully you will gain some insights from the story. Feel free to send us your feedback at yfc@hkam.org.hk.
You are also encouraged to submit your stories all year round. Please find more details here.