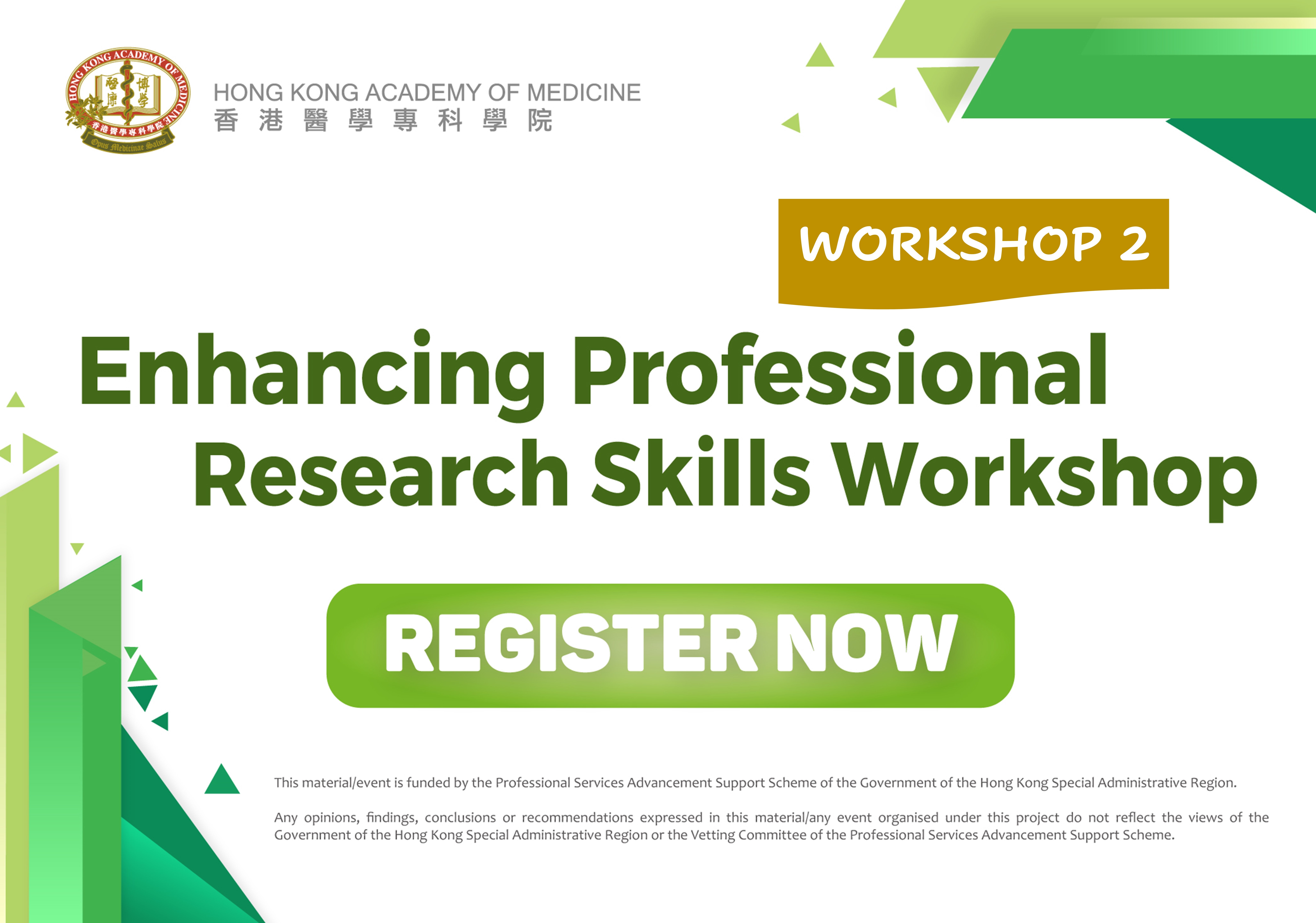 Hong Kong Academy of Medicine is organising four identical Zoom workshops, named "Enhancing Professional Research Skills Workshop" on Saturday afternoons. This four-module workshop aims to provide medical and dental specialists with more in-depth knowledge and skill required for medical research. Interested Fellows and Specialist Trainees can find the workshop details here.
Online registration for Workshop 2 is open now until 4 October 2021: http://page.hkam.org.hk/PASS
Enquiries: webinar@hkam.org.hk
𝘛𝘩𝘪𝘴 𝘮𝘢𝘵𝘦𝘳𝘪𝘢𝘭/𝘦𝘷𝘦𝘯𝘵 𝘪𝘴 𝘧𝘶𝘯𝘥𝘦𝘥 𝘣𝘺 𝘵𝘩𝘦 𝘗𝘳𝘰𝘧𝘦𝘴𝘴𝘪𝘰𝘯𝘢𝘭 𝘚𝘦𝘳𝘷𝘪𝘤𝘦𝘴 𝘈𝘥𝘷𝘢𝘯𝘤𝘦𝘮𝘦𝘯𝘵 𝘚𝘶𝘱𝘱𝘰𝘳𝘵 𝘚𝘤𝘩𝘦𝘮𝘦 𝘰𝘧 𝘵𝘩𝘦 𝘎𝘰𝘷𝘦𝘳𝘯𝘮𝘦𝘯𝘵 𝘰𝘧 𝘵𝘩𝘦 𝘏𝘰𝘯𝘨 𝘒𝘰𝘯𝘨 𝘚𝘱𝘦𝘤𝘪𝘢𝘭 𝘈𝘥𝘮𝘪𝘯𝘪𝘴𝘵𝘳𝘢𝘵𝘪𝘷𝘦 𝘙𝘦𝘨𝘪𝘰𝘯.

𝘈𝘯𝘺 𝘰𝘱𝘪𝘯𝘪𝘰𝘯𝘴, 𝘧𝘪𝘯𝘥𝘪𝘯𝘨𝘴, 𝘤𝘰𝘯𝘤𝘭𝘶𝘴𝘪𝘰𝘯𝘴 𝘰𝘳 𝘳𝘦𝘤𝘰𝘮𝘮𝘦𝘯𝘥𝘢𝘵𝘪𝘰𝘯𝘴 𝘦𝘹𝘱𝘳𝘦𝘴𝘴𝘦𝘥 𝘪𝘯 𝘵𝘩𝘪𝘴 𝘮𝘢𝘵𝘦𝘳𝘪𝘢𝘭/𝘢𝘯𝘺 𝘦𝘷𝘦𝘯𝘵 𝘰𝘳𝘨𝘢𝘯𝘪𝘴𝘦𝘥 𝘶𝘯𝘥𝘦𝘳 𝘵𝘩𝘪𝘴 𝘱𝘳𝘰𝘫𝘦𝘤𝘵 𝘥𝘰 𝘯𝘰𝘵 𝘳𝘦𝘧𝘭𝘦𝘤𝘵 𝘵𝘩𝘦 𝘷𝘪𝘦𝘸𝘴 𝘰𝘧 𝘵𝘩𝘦 𝘎𝘰𝘷𝘦𝘳𝘯𝘮𝘦𝘯𝘵 𝘰𝘧 𝘵𝘩𝘦 𝘏𝘰𝘯𝘨 𝘒𝘰𝘯𝘨 𝘚𝘱𝘦𝘤𝘪𝘢𝘭 𝘈𝘥𝘮𝘪𝘯𝘪𝘴𝘵𝘳𝘢𝘵𝘪𝘷𝘦 𝘙𝘦𝘨𝘪𝘰𝘯 𝘰𝘳 𝘵𝘩𝘦 𝘝𝘦𝘵𝘵𝘪𝘯𝘨 𝘊𝘰𝘮𝘮𝘪𝘵𝘵𝘦𝘦 𝘰𝘧 𝘵𝘩𝘦 𝘗𝘳𝘰𝘧𝘦𝘴𝘴𝘪𝘰𝘯𝘢𝘭 𝘚𝘦𝘳𝘷𝘪𝘤𝘦𝘴 𝘈𝘥𝘷𝘢𝘯𝘤𝘦𝘮𝘦𝘯𝘵 𝘚𝘶𝘱𝘱𝘰𝘳𝘵 𝘚𝘤𝘩𝘦𝘮𝘦.